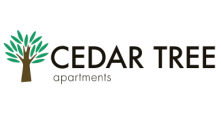 The search for your new apartment ends here.
Welcome home to Cedar Tree Apartments!
Apartment Rentals In Wilmington DE
Cedar Tree Apartments is a residential rental refuge in Delaware's largest city.
Westover Companies
delivers in quality in each of its 58 different properties with smart design, lush landscaping, and sustainability, including for this option for apartment rentals in Wilmington, DE. Located 30 minutes south of Philadelphia, Cedar Tree Apartments offers a relaxing atmosphere surrounded by everything. Rich with indoor and outdoor
amenities
in a photogenic setting, anyone looking for Wilmington apartment rentals will find what they need at Cedar Tree Apartments.
Because Wilmington is right in the middle of everything, our cat-friendly apartment rentals boast excellent connections to
regional destinations
. Our residents are just around the corner from the University of Delaware. If you need to head out to Philadelphia or downtown Wilmington, our proximity to I-95 and the Dart bus line is unbeatable.
Looking for a studio, one-, or two-bedroom apartment rental in Wilmington, DE? Our apartments feature up to 925 square feet of climate control, wall-to-wall carpeting, large closets, and even a dishwasher. Other amenities include a swimming pool, the option for online rent payments, a courtyard, beautifully landscaped grounds, on-site laundry facilities, a fitness center, and a discount for a local health club.
For 50 years, Westover Companies had introduced a comfortable and luxury living experience for residents in Delaware, Maryland, Pennsylvania, and New Jersey. Whether you are seeking a community to support your active lifestyle or just a place you can unwind after a long day of work, you'll feel right at home at any of our properties. Cedar Tree Apartments offers a variety of amenities and features in a prime location right outside of Philadelphia. If you're among the hundreds of individuals looking for a redefined living experience in Wilmington, Delaware, we can help.
Contact us
today to learn more about our available apartments. If you like what you've heard, read, or seen in our website and our
photo gallery
, schedule a tour to see what else we have to offer.

The search for your new apartment ends here.
Welcome home to Cedar Tree Apartments!